Newsroom
VADS
Newsroom
VADS Indonesia Government Webinar 2021 "Progressive and Participatory Optimization of Digital Era Public Services in the New Normal"
VADS Indonesia Government Webinar 2021 "Progressive and Participatory Optimization of Digital Era Public Services in the New Normal"
28 July 2021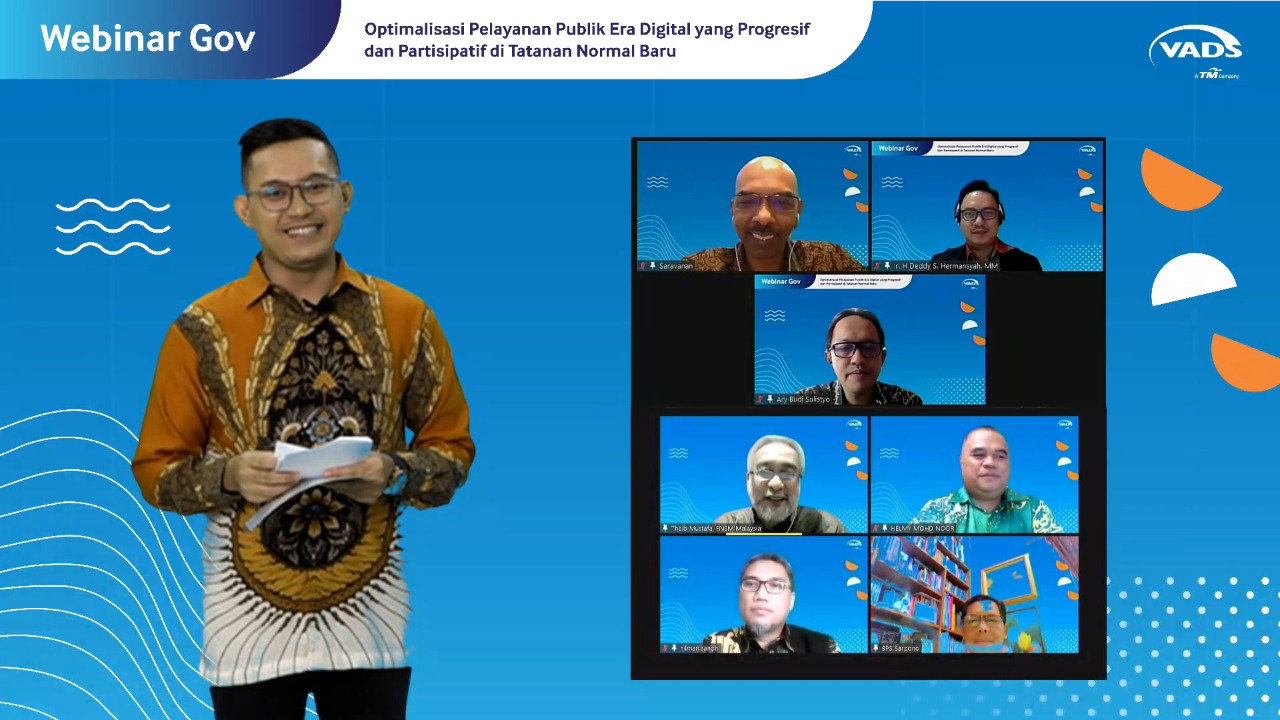 Jakarta, 28 July 2021 – PT. VADS Indonesia held a Government Webinar 2021 with the theme "Optimizing Progressive and Participatory Digital Era Public Services in the New Normal Order" via Zoom Webinar. This webinar is an annual activity of PT. VADS Indonesia with the aim of sharing knowledge and strategies on how to improve public services in each unit or institution in the era of the new normal order, especially in government.
In addition, on this occasion, PT VADS also introduced new solutions to improve public services during the pandemic such as Business Continuity Plan (BCP), Work From Home (WFH), Cloud Analytics, and Blockchain Security Authentication transaction data security solutions. These solutions are expected to facilitate services for customers and the public who need information with a fast and appropriate response, especially during this pandemic, and ensure the security of customer data.

This webinar presents speakers who are experts and competent in their fields ranging from regulators and also practitioners who provide important insights on how to optimize public services in the digital era, especially during this pandemic, such as Ary Budi Sulistyo, Broadband Governance Coordinator of the Broadband Development Directorate. Directorate General of Post and Information Technology, Ministry of Communication and Information Technology, DR. Sarpono, Director of Census and Survey Methodology Development, Central Bureau of Statistics, Hilman Sandhi, CRA Division Head of PT PAM Lyonnaise Jaya, Thaib bin Mustafa, Director of FNV-M (SEA), and Helmy Mohammad Noor, Data Scientist Management Consultant TM ONE.

"PT VADS Indonesia also supports government programs in meeting health protocols and staying productive by providing new solutions such as Work From Home, Cloud Analytics, and Blockchain Secure Authentication which is the latest technology that uses blockchain technology for distributed security random check, passwordless. , and encrypted data so that the user does not need to remember the login password. On the one hand, this BSA technology also provides efficiency because it can eliminate SMS OTP costs. We provide flexible and updated business solutions to improve business and help companies transform into the digital era, for example, PT PAM Lyonnaise Jaya, which is one of PT VADS Indonesia's clients, supported by VADS for digital transformation using omnichannel and WFH solutions. In the pandemic era to continue to be productive and keep services available." said Deddy Hermansyah, Chief Marketing Officer of PT VADS Indonesia.

Deddy Hermansyah revealed that PT VADS Indonesia has also carried out a vaccination program for all employees of PT VADS Indonesia, totaling around 6600 employees. Currently, PT VADS Indonesia serves more than 60 companies in terms of government, telecommunications, e-commerce, health, manufacturing, fintech, banks, insurance, and many more, both local companies in Indonesia and companies abroad.
Participants who attended this webinar consisted of various government institutions such as Bank DKI, Transjakarta, Ministry of Transportation, Ministry of Finance, KLIP DJP, Ministry of Home Affairs, Bank Sleman, Ministry of Education and Culture, OJK, Ministry of PUPR, Ministry of Energy and Mineral Resources, and many more.

This webinar is expected to add insight to the participants in carrying out public services that remain optimal even in conditions of the new normal order as it is today and also to be more familiar with the solutions that PT VADS Indonesia can provide in improving public services in the digital era, especially during the pandemic.
---