Newsroom
VADS
Newsroom
PT VADS Indonesia is Committed to Implementing ISO 37001:2016 Anti-Bribery Management System Policy
PT VADS Indonesia is Committed to Implementing ISO 37001:2016 Anti-Bribery Management System Policy
14 February 2023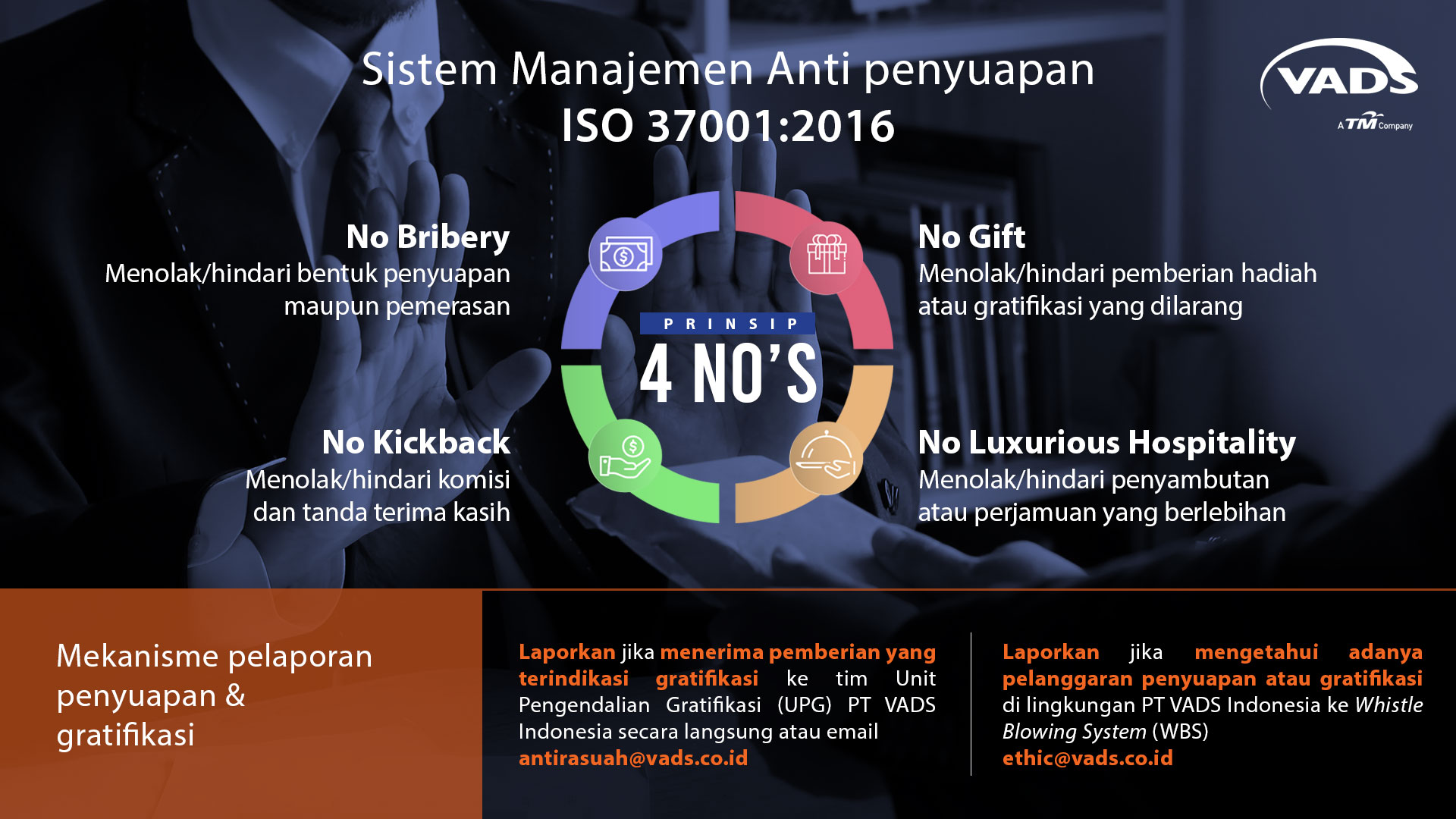 PT VADS Indonesia implements the ISO 37001:2016 Anti-Bribery Management System as a form of commitment to conducting business by always prioritizing ethics and honesty. This progressive step is to mitigate the risk of bribery that has a detrimental effect on the company and stakeholders, both in the short and long term.
ISO 37001:2016 Anti-Bribery Management System is a standard that details requirements and provides guidance to assist companies in preventing, detecting, and dealing with bribery in companies.
In order to support this policy, PT VADS Indonesia is committed to the following:
1. Implementing the value of integrity, guided by the code of ethics of the 4 NO's principles as follows:
     1) No Bribery (No bribery, kickbacks, and extortion)
     2) No Kickback (No commissions, money/thanks, and money sharing)
     3) No Gift (No unusual gift)
     4) No Luxurious Hospitality (No excessive reception and entertainment)
2. Implement the Zero Tolerance principle for actions related to violations of laws and regulations related to Corruption Eradication and the 4 NO's principles.
3. Do not allow company employees and company stakeholders to violate the Company's Code of Ethics, Core Values, and 4 NO's Principles relating to their duties at PT VADS Indonesia.
4. Regulating the conflict of interest of every employee of the company and any conflict of interest that has the potential to pose a risk must be declared.
5. Provide regular outreach and training regarding corruption prevention, 4 NO's principles, and building business integrity on a regular basis to all company employees.
6. Establish an independent and independent Anti-Bribery Compliance Function.
7. Supervise and provide a framework for the implementation of this commitment and any violation of the Code of Ethics and Principle 4 NOs will be subject to sanctions in accordance with applicable regulations.
8. Always strive to improve and improve every business process so that it is in line with integrity principles.
With the certification of the Anti-Bribery Management System based on ISO 37001: 2016 at PT VADS Indonesia, this certification can be used as a guarantee for stakeholders that the company has carried out anti-bribery control practices that are recognized internationally and nationally.
In the internal context, with the establishment of policies and guidelines for the Anti-Bribery Management System, it becomes an obligation for all employees of PT VADS Indonesia to comply with the policies and all requirements in implementing all rules and procedures for the Anti-Bribery Management System.
Report if you receive gifts that indicate gratuity to the PT VADS Indonesia Gratification Control Unit (UPG) team directly or via email at antirasuah@vads.co.id. Report if you know of any bribery or gratuity violations within PT VADS Indonesia to the Whistle Blowing System (WBS) via email ethic@vads.co.id.
---