Newsroom
VADS
Newsroom
VADS Indonesia Client Gathering 2023 "The Future is Here: Improve your Contact Center in 2023"
VADS Indonesia Client Gathering 2023 "The Future is Here: Improve your Contact Center in 2023"
16 March 2023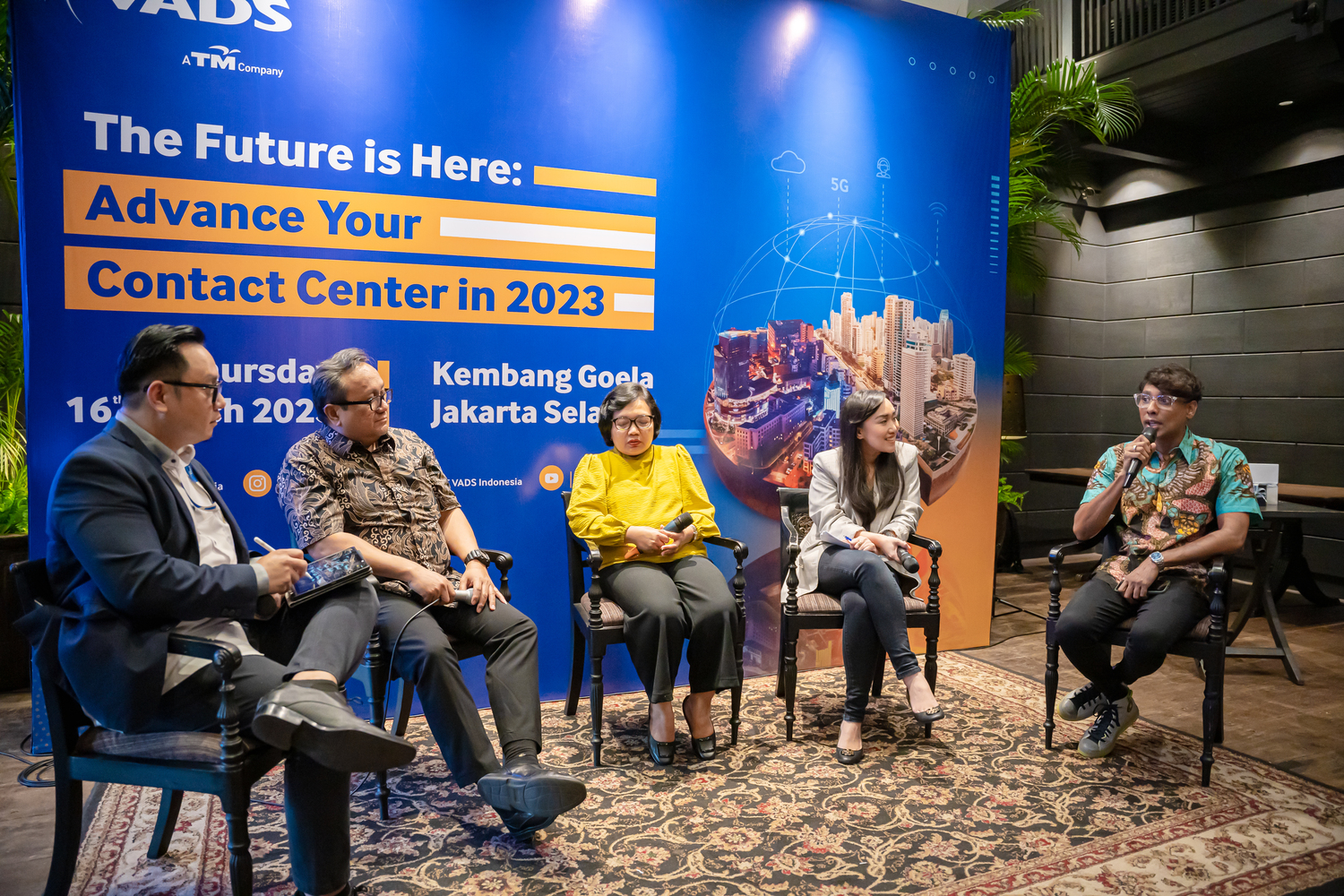 Jakarta, 16 March 2023 – PT. VADS Indonesia again held the 2023 Client Gathering event with the theme "The Future is Here: Improve your Contact Center in 2023". At this event, PT VADS Indonesia focused on how technology can improve contact center services and provide a better digital experience for its customers. The event, which was held at one of the prestigious restaurants in South Jakarta, is also a place to strengthen relationships with clients and to thank PT VADS Indonesia for the loyalty and trust that has been given. In addition, PT VADS Indonesia also introduced other solutions such as Customer Experience Automation, which can improve service efficiency and quality through the use of technology such as inbound and outbound contact center automation, predictive, omnichannel + AI, live chatbots, WhatsApp, and beyond. BPO solutions. PT VADS Indonesia hopes that these solutions can have a positive impact on clients and help them transform into an increasingly advanced and reliable digital era.
This event presented 4 speakers who were experienced and competent in their fields, namely: Philip Joseph (Senior Vice President of Customer Experience & Service Operation Indosat Ooredoo Hutchison), Windy Andale (Vice President of Customer Services PT ASDP Indonesia Ferry), Anna Novy Handayani (Division Head Mandiri Inhealth Customer Service), and Nico Herry Janto (Head of KRING Tax, Directorate General of Taxes, Ministry of Finance of the Republic of Indonesia). The four speakers shared their experiences and projections for facing 2023 in a panel discussion that was attended by more than 30 well-known companies, including telecommunication companies, government, e-commerce, banking, and others, who are users of PT VADS Indonesia's services.
At the event, Deddy Hermansyah, Chief Marketing and Sales Officer of PT VADS Indonesia explained research from Gartner and the Asia Pacific BPO Association regarding the trending customer experience (CX) in the future, namely:
Artificial Intelligence and Machine Learning, where CX's ability not only answers consumer problems but can also predict consumer behavior and needs based on journey and personalization.
Human Centric CX Design, CX design to make every interaction easy (seamless) and automation in accelerating questions and answers from every interaction with consumers in order to provide a closer (meaningful) relationship.
Total experience (TX), is a synchronization of the 3 pillars namely people, process, and technology to provide better solutions and collaboration.
The use of omnichannel, connecting both digital and traditional channels in one platform and studying the journey of consumers to minimize friction in CX and make a seamless omnichannel.
Metaverse in CX is a new breakthrough in CX services where consumers can experience, try, as well as discuss directly with SME (subject master expert) so as to provide an unforgettable experience.
"These five trends are in line with the changes that have occurred in designing new solutions which have become the flagship solution (Beyond BPO) at PT VADS Indonesia. These solutions have been implemented for several strategic clients in responding to the challenges and needs of CX in the future.", said Deddy Hermanyah, "As a good partner, PT VADS Indonesia is very responsive and flexible in providing services in all conditions. This quality makes clients loyal in cooperating with PT VADS Indonesia, and some have even worked together for more than 10 years.", he continued
In early 2023, PT VADS Indonesia received an award from Indosat Ooredoo Hutchison as The Best CX Partner 2022, and 35 other awards both nationally and globally, such as from ICCA, Stellar Award, Frost and Sullivan, CCW, and others. PT VADS Indonesia also conducts surveys through third parties from year to year to measure the level of satisfaction and performance (NPS and CSAT) of its clients. The research results show an increase of 10 points to 40 in NPS and an increase of 6 points to 98% in CSAT. This increase occurred in several aspects, such as good communication, responsiveness, good service, efficiency, performance as needed, and service readiness.
"The awards we have received and the NPS and CSAT achievements that have increased in 2022 are not a reason for PT VADS Indonesia to be complacent. All of this will trigger us to further improve our services, update solutions that are trending in the market according to the vertical industry, and bring convenience to our clients to be more advanced and competitive in the future" Closed Deddy Hermansyah at the PT Client Gathering event VADS Indonesia.
---