Newsroom
VADS
Newsroom
Digital Services Are Increasingly Needed, Companies Must Clean Up
Digital Services Are Increasingly Needed, Companies Must Clean Up
16 March 2022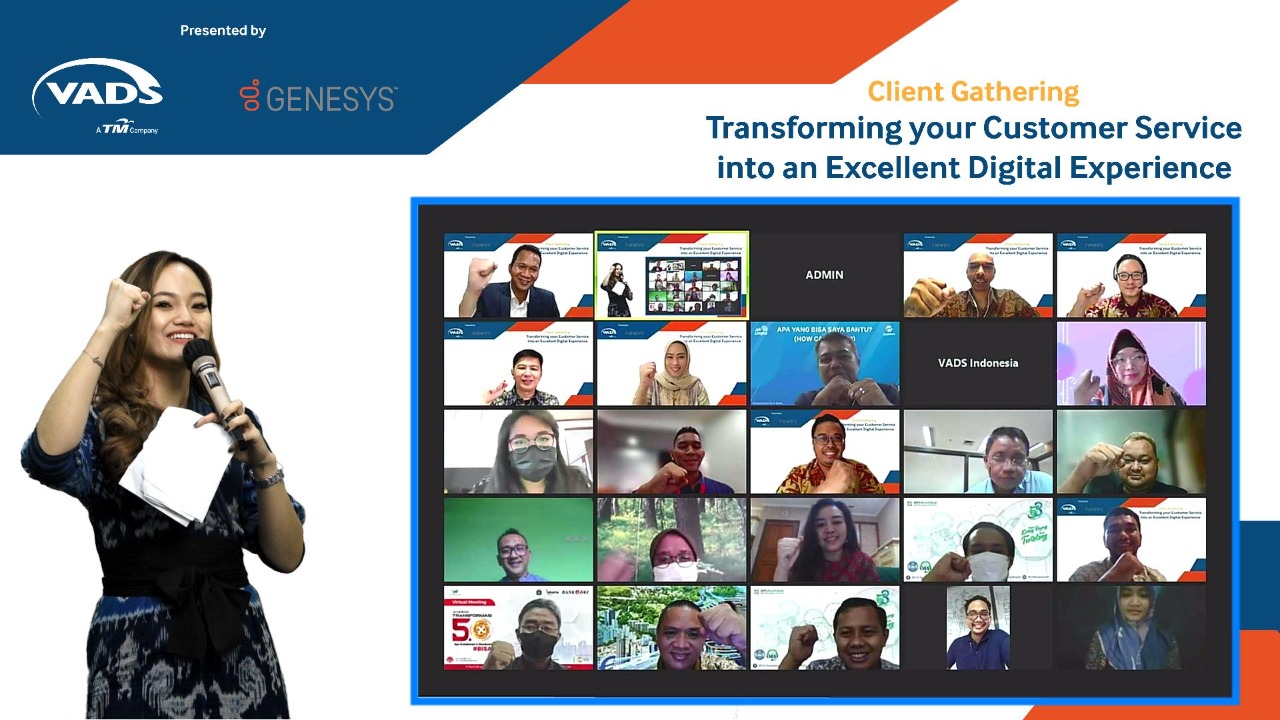 Jakarta, March 16, 2022 – PT. VADS Indonesia again held the 2022 Client Gathering Webinar with the theme "Transforming your Customer Service into an Excellent Digital Experience". This webinar is an annual activity of PT. VADS Indonesia aims to give appreciation and commitment to clients for the loyalty and trust of those who have used the services of PT VADS Indonesia and improve relationships with clients of PT VADS Indonesia. In addition, on this occasion, PT VADS also introduced new solutions to improve contact centers and help clients transform into digital experience including Customer Experience Automation solutions (inbound and outbound contact center automation, omnichannel + live chatbot, and WhatsApp Bot). These solutions are expected to provide a seamless customer journey and efficiency and fast response in a service operation.
"I can say the customer journey has changed actively over the last few years. The pandemic has accelerated the digital transformation of many companies in providing new customer experiences. In a series of webinar sessions organized by VADS, we continue to bring expertise to share experiences on how they have made digital transformation when using VADS digital services together with our partners who continue to produce many innovations to improve to provide better." said Saravanan Belusami, CEO of PT VADS Indonesia.
The 2022 Client Gathering presents 3 experienced and competent speakers in their fields, including Tine E. Effendi (Vice President of Customer Satisfaction Management Bukalapak), Hunady Budihartono (Country Manager Genesys), and Hizam Ghazali (GM Digital Services Telekom Malaysia). This event was attended by more than 50 well-known companies from companies that use the services of PT VADS Indonesia in various industries such as banking, E-Commerce, telecommunications, government, and other sectors.
"As quoted from an international entrepreneur Jeff Bezos, founder of Amazon Corporations, "There is no other option to digital transformation for companies. It's either digitize or welcome failure". Where Jeff Bezos has concluded that if a company does not want to transform to digital services, it will wait for the failure and extinction of its business. This is where PT VADS Indonesia plays a role in helping existing and potential clients to transform into digital experience excellence services, both in terms of providing up-to-date digital technology systems, reliable human resources with digital capabilities, and adequate infrastructure and places. Especially for digital engagement services in the banking and financial sector, we already have ISO 27001:2013, PCI DSS, and ISO 9001:2015." Said Deddy Hermansyah, Chief Sales & Marketing Officer of PT VADS Indonesia.
Deddy Hermansyah added, not stopping at the digital solutions mentioned above, PT VADS also provides added value to customers who join, including:
1. Provide a customer e-learning center (learning management system) to facilitate the process of updating knowledge of a product and service online, either at home / WFH or at the office / WFO of course equipped with online testing standards in the form of pre and post-tests, as well as quizzes to ensure absorption is fit for purpose.
2. Provide insightful analytical reporting with VADS Power BI (Business Intelligent) tools with the advantages of customizable visualization, data modeling, and insight reporting, and can be accessed via mobile phone with efficient time and interactive visualization.
3. Providing services with a STRONG culture (Move, Aim, No Turning Back, Target, Accelerate, Precise) that is tailored to the client's vision to increase productivity and performance. At the same time, preparation for The Best Contact Center Indonesia competition starts with determining the talent, appearance, skills, and materials that will be carried.
In this session, PT VADS introduced the 5 pillars of transformation to focus on and connect its solutions through digital transformation. The 5 pillars of the transformation are VADS Academy, VADS Analytics, VADS ICT, VADS COE (Center of Excellence), and VADS Digital. Where these pillars relate to VADS solutions in providing excellent digital experience services. The VADS Analytics pillar, which was just presented in the session, has the advantages of recording, listening, and crawling data to all online services and social media channels by analyzing various sentiments, emotions, and expert data scientist analysts. So it can provide reports in real-time data updates and report analysis. We also offer a free trial via the link bit.ly/vads-SMA
"Of course, in 3 years of this pandemic, PT VADS has learned a lot and continues to provide full support to our clients with work from home services where data confidentiality and security are maintained. In addition to the BPO (Business Process Outsourcing) solutions above, in this sharing session, we also explained other solutions from PT VADS, namely ICT (Information and Communication Technology) solutions including VADS Cloud, Smart Services, Manage Service Desk, Helpdesk, and Blockchain Secure Authentication, and RPA (Robot Processing Automation). We also offer a free trial for the above services by contacting directly through our team. For this RPA service, it has been implemented in the service headquarters of PT VADS (Telekom Malaysia). Where the service request process can be shortened and accurate from a 3-hour TAT (Turn Around Time) process to just a few minutes. This proves that RPA services are able to replicate human action, are able to work without human intervention, and are able to work 24x7 365 a year so that they provide benefits and are cost-effective. So immediately join VADS Indonesia and feel our advantages and benefits to grow fast and big together, VADS will make your business easier! " said Deddy Hermansyah.
---