Newsroom
VADS
Newsroom
PT VADS Indonesia Successfully Won a Silver Medal at The Best Contact Center Indonesia 2023 Event
PT VADS Indonesia Successfully Won a Silver Medal at The Best Contact Center Indonesia 2023 Event
27 September 2023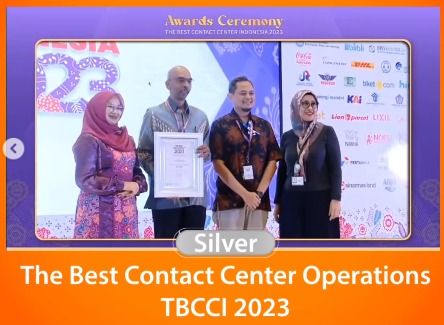 PT VADS Indonesia has achieved brilliant achievements in 2023 The Best Contact Center Indonesia (TBCCI) event, where VADS won a silver medal in the corporate category "The Best Contact Center Operations".
TBCCI is a national-level awards event that appreciates excellence in the contact center industry in Indonesia and is recognized internationally by the Contact Center Association of Asia Pacific (CC-APAC). This year, more than 50 companies from various sectors participated, making the competition even fiercer.
PT VADS Indonesia's success in winning this silver medal cannot be separated from the trust given by clients in choosing the services provided by PT VADS Indonesia to meet their customers' needs. This success is also the result of the hard work and dedication of the VADSters who have made an extraordinary contribution in ensuring optimal operations at the TBCCI 2023 event.
With this brilliant achievement, PT VADS Indonesia confirms its commitment to continue to improve and maintain standards of service excellence as a Digital BPO company that provides the best customer experience in Indonesia. In a world that continues to change and develop, PT VADS Indonesia strives to remain at the forefront of innovation and provide appropriate solutions for customer needs.
We would like to express our deepest gratitude to ICCA and the entire VADSters team who have provided full support to PT VADS Indonesia in facing this prestigious event. This success gives us new enthusiasm and motivates us to continue moving forward. Together, we will make PT VADS Indonesia Semakin MANTAP!
---