Newsroom
VADS
Newsroom
PT VADS Indonesia Awarded "Excellent Contact Center Floor Operation 2023" by PT Haier Sales Indonesia
PT VADS Indonesia Awarded "Excellent Contact Center Floor Operation 2023" by PT Haier Sales Indonesia
17 October 2023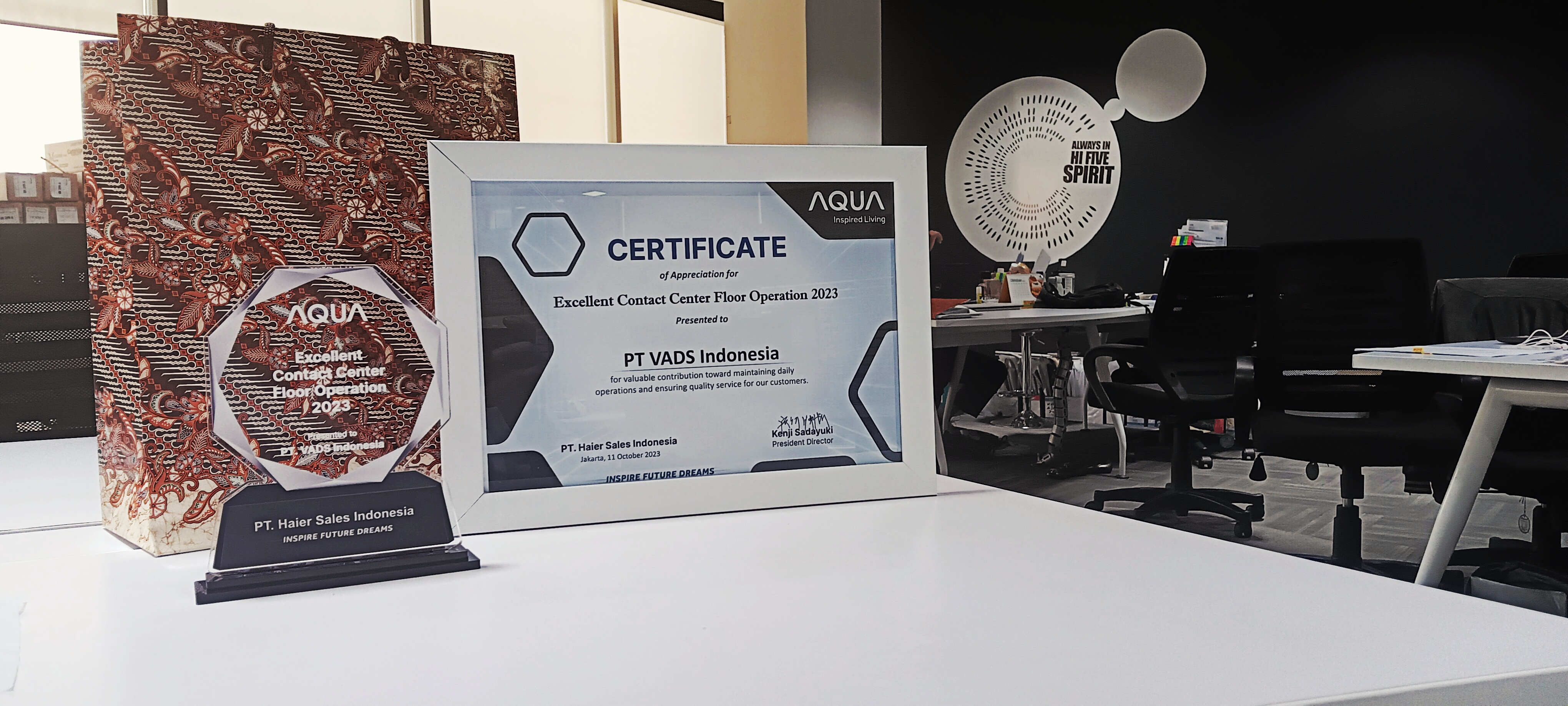 PT VADS Indonesia achieved a proud achievement after receiving the "Excellent Contact Center Floor Operation 2023" award from PT Haier Sales Indonesia. This award was given in recognition of PT VADS Indonesia's invaluable contribution to maintaining daily operations and ensuring high-quality service to PT Haier Sales Indonesia customers.
This award is clear evidence of the dedication and professionalism that has been implemented by PT VADS Indonesia in providing superior services in the contact center field. One of the keys to PT VADS Indonesia's success in obtaining this award is its focus on service quality and efficient operations. The PT VADS Indonesia contact center team continues to strive to provide timely, informative, and helpful service to customers. We constantly innovate and ensure that every interaction with customers is a satisfying experience.
In supporting PT Haier Sales Indonesia, PT VADS Indonesia truly understands the importance of effective customer engagement. We work proactively to understand customer needs and expectations so that we can provide the right solutions and support the creation of high customer satisfaction. Good customer engagement is the foundation of superior contact center operations.
The "Excellent Contact Center Floor Operation 2023" award given by PT Haier Sales Indonesia is proof of appreciation for the maximum efforts made by PT VADS Indonesia. Now, PT VADS Indonesia is increasingly motivated to continue improving the quality of our services, strengthening our partnership with PT Haier Sales Indonesia, and ensuring an extraordinary customer experience in every interaction.
This success also reflects PT VADS Indonesia's commitment to remain a leader in the contact center industry and to continue to provide the best service to our partners and customers.
"We are proud of this award and ready to continue to contribute and carry out our responsibilities optimally to serve the Indonesian people better." Said Saravanan Belusami, CEO of PT VADS Indonesia.
---