Newsroom
VADS
Newsroom
Transformation of Customer Experience in The Digital Era
Transformation of Customer Experience in The Digital Era
15 August 2023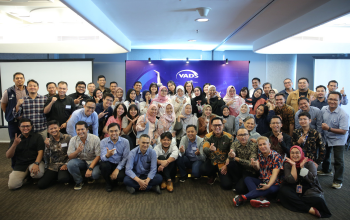 On August 9, 2023, PT VADS Indonesia successfully held a Workshop for Leaders which was held at the JS Luwansa Hotel and Convention Center. The event with the theme "Transformation of CX in the Digital Era" managed to attract the attention of more than 50 participants from various companies with various industries. The major transformations brought about by the digital era have had a significant impact, including on the way customers interact with companies and brands. Now, customer experience has become the main point in creating a competitive advantage and building strong loyalty.
The fast and dynamic digital era has created ever higher expectations from customers for the products and services they enjoy. A seamless, personal, and relevant experience in every interaction with the company is an inevitable demand. In this view, adapting to these changes is not just a choice, but a necessity. Technology and digitization have brought not only new opportunities but also new challenges in creating great customer experiences.
In order to wisely address these changes, PT VADS Indonesia held a Workshop for Leaders as a forum to explore strategies for dealing with these changes and provide an unforgettable customer experience. This event allows participants to discuss and hear first-hand experiences from industry leaders, especially Ms. Tine E. Effendy, Vice President of Customer Satisfaction at Bukalapak who has shared her knowledge and experience on effective strategies to achieve customer experience transformation.
In his remarks, the CEO of PT VADS Indonesia, Saravanan Belusami, said, "I believe that transforming the customer experience is a journey that requires commitment and hard work from every individual or organization involved. Therefore, let's take this opportunity to collaborate and share knowledge so that we can create innovative and relevant steps in dealing with existing challenges and opportunities, in order to provide an extraordinary customer experience."
This event also presents experience-sharing sessions in terms of technology and solutions, Deddy Hermansyah (Chief of Marketing & Sales Officer) and Firdaus Nur Dwi Fahmi (Chief IT & Digital Officer) representing VADS Indonesia to share processes in achieving superior customer experience.
It didn't stop there, the Workshop for Leaders also provided discussion sessions for participants, discussing various case studies such as discussions on outbound strategies, management of field service systems, and social media analytics. This is a valuable opportunity for participants to interact directly, exchange ideas, and understand the implementation of the concepts discussed.
Through the Workshop for Leaders with the theme "Transformation of CX in The Digital Era", PT VADS Indonesia has opened doors for industry leaders to understand and face the challenges and opportunities the digital era offers. With the spirit of collaboration and knowledge sharing, it is hoped that companies and leaders can jointly create extraordinary customer experiences and build success in facing the changes in CX transformation in the digital era.
---