Newsroom
VADS
Newsroom
FSI Seminar 2022 VADS Indonesia "Maximizing the Role of Automation for a More Effective and Efficient Customer Experience"
FSI Seminar 2022 VADS Indonesia "Maximizing the Role of Automation for a More Effective and Efficient Customer Experience"
06 December 2022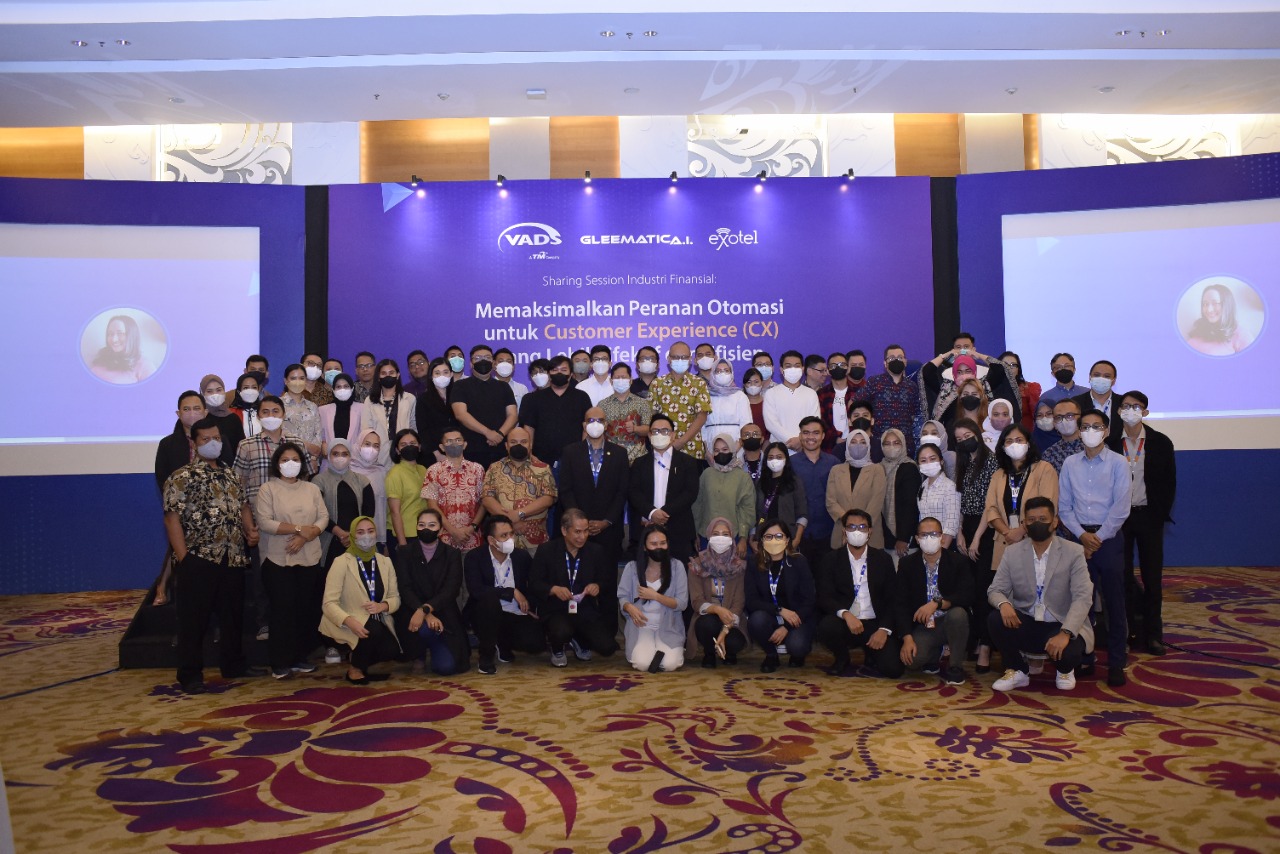 Jakarta, 6 December 2022 – PT. VADS Indonesia held the 2022 FSI Seminar with the theme "Maximizing the Role of Automation for a More Effective and Efficient Customer Experience". At this annual seminar, PT VADS Indonesia is working with Gleematic and Exotel to share knowledge and strategies on how to improve customer experience by utilizing technology, especially in the financial industry sector.
The event which was attended by 45 well-known companies from the financial industry such as Commonwealth Bank, Bank DKI, Bank Syariah Indonesia, Bank BCA, Seabank, Dompet Dhuafa and others, some of which are clients of PT. VADS Indonesia presents 5 experienced and competent speakers, both from regulators, the financial industry and consumer services. The speaker who is also a client of PT. The Indonesian VADS are Nufransa Wira Sakti, Expert Staff to the Minister of Finance for Tax Oversight at the Ministry of Finance of the Republic of Indonesia, Ruly Widyanto, Multiguna Division Head Mandiri Tunas Finance, Vitri Ani, Head of Operations Nanovest, Christopher Lim, Founder/CEO of Gleematic AI, and Raman, Exotel Head of International Marketing.
Saravanan Belusami, CEO of PT VADS Indonesia opened the event by telling the evolution of the customer experience that departed from traditional call centers around the 1990s, multichannel in the 2000s, omnichannel in early 2010, proactive service in late 2010, up to now with robotic customers. experience. "We must always keep up with technological developments by adapting immediately and not being left behind in providing services. Evidenced by online registration (e-KYC) in the financial industry such as banking, fintech and e-commerce which makes it easier, faster and more efficient.", he continued.
In addition, Deddy Hermansyah, Chief Marketing & Sales Officer of PT VADS Indonesia, explained that automation will shorten data processing, predictable physical activities and data collection by up to 70-75%. Research from McKinsey predicts that 15% of the global workforce will be replaced by automation. Although we also have to pay attention that many developing countries with young generations like Indonesia will experience an increase in the need for employment.
This automation is one of the superior solutions by VADS Indonesia in increasing the trust of clients and prospective clients. "With automation in the Customer Experience, it will reduce the error rate from humans. Everything will be more accurate and consistent, improve customer experience, as well as better operational visibility," said Deddy Hermansyah. He also explained about artificial intelligence (AI) and robotic process automation (RPA) which are used for online registration (e-KYC) processes via video calls, chatbots, voicebots, data processing, collection, inventory, and others.
PT VADS Indonesia's chatbot development is based on AI, natural language processing (NLP), and Machine Learning which makes first contact resolution easier, faster and more efficient. The chatbot has been implemented in several PT VADS clients in the manufacturing, pharmaceutical and telecommunications sectors with a hybrid model (bot + live agent), so that every interaction can be completed at the bot and live agent level. "In today's digital era, we know that a lot of conventional banks are transforming into digital banks, where our clients use full outsourced solutions where the premises, systems and operations are all provided by PT VADS Indonesia. Clients and customers don't need to worry, because we are ISO 27001:2013 and PCI DSS certified regarding confidentiality and reliable data security for transactions using credit cards," said Deddy Hermansyah. "Apart from that, PT VADS also has ISO 9001:2015 for operational management and what will be coming soon is ISO 37001:2016 regarding anti-bribery. We also provide the latest value added such as learning management system (LMS), knowledge management system (KMS), and quality monitoring system (QMS) to improve CEC performance, productivity, and customer satisfaction quality score (CSAT) and net promoter score (NPS). "
It should be mentioned, in September 2022, PT VADS Indonesia won the "Best Stellar Workplace Award for Small Employee" and "Stellar Workplace Recognition in Employee Commitment & Satisfaction" awards from the Stellar Workplace Award DX 2022. In addition, PT VADS Indonesia also received an award at the Best Contact Center Indonesia 2022 event in the category "The Best Technology Innovation". This was obtained for the support and trust of clients who have used their customer service for PT VADS Indonesia.
---