Newsroom
VADS
Newsroom
Check Out Outbound Contact Center Automation Services!
Check Out Outbound Contact Center Automation Services!
02 May 2023
To create a comprehensive service, a company needs to prepare a system from start to finish in order to provide the maximum user experience. One way is to use outbound contact center automation.
No need to build a system from scratch, you can take advantage of outbound contact center automation services from professional service providers, such as PT VADS Indonesia (VADS), for example. Indeed, what services can outbound contact center automation provide?
Definition of outbound contact center automation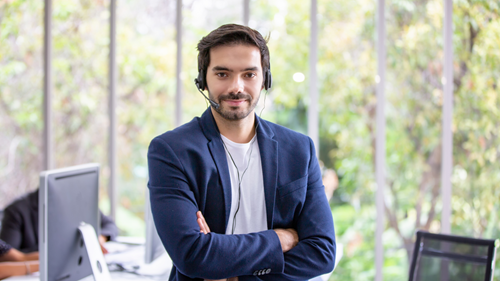 Before knowing the services that can be performed by outbound contact center automation, you need to know the definition first. In simple terms, an outbound contact center is an activity of making outgoing calls to customers or potential customers by a company through an agent. As technology develops, this practice can be done automatically, until the term outbound contact center automation appears.
This term is similar to the definition of a call center. The difference is, call centers are outgoing call activities made by telephone, while outbound contact center automation already uses multichannel which can operate all day long. There are at least six services that can be performed, you can see a full explanation in the points below.
6 Services that can be done outbound contact center automation
Along with the development of the times and increasingly fierce business competition, companies require more complex services to serve the various needs of their customers. You can get the following services from outbound contact center automation.
1. Lead generation
The first service is lead generation. Familiar with the term? If not, lead generation can be defined as a process of attracting the attention of potential customers who don't know about your product, so that they become people who are interested in the product or business service you are doing.
It sounds simple, even though there are many complicated processes to do it. Starting from making informative articles, quality videos, interesting content, and much more. Through a professional outbound contact center automation such as VADS, this can be accomplished under one roof without the need to contact several agencies at once.
2. Market research
Another important thing for a company to do is market research. By regularly conducting market research, you will also be more sensitive to changes and demands that customers want.
Actually, there are several market research methods. However, to get more accurate results, direct discussions with your customers can be the right choice. So, so that the discussion process is more efficient and you can get the data you need, outbound contact center automation can be the choice.
3. Debt collection
For those of you whose business has a number of receivables from other parties, using a debt collection service can be an option. Even though his job is to collect debts, this is clearly different from debt collectors whose names seem similar.
Professional debt collection services are able to understand the condition of the debtor, remind payment obligations, and also escalate cases to the realm of law if necessary.
4. Direct selling
Capitalizing on existing potential customer data, outbound contact center automation is able to provide direct selling services through various channels that the company has. Because the targets are clear and carried out by professionals, this marketing strategy is perfect for the business you want to develop.
5. Customer loyalty program
Apart from finding new customers, it is also important to maintain the existing customer base. One of the most effective ways to do this is to create a customer loyalty program. The methods are very diverse, you can give special vouchers, limited product offers, to various other attractive offers so that customers remain loyal to using your products.
6. Customer acquisition
In order for your customer base to get bigger, finding new customers is a must. If you want to be more practical, don't worry, outbound contact center automation has provided everything. All you have to do is communicate and provide clear briefs and targets, then your marketing campaign can run optimally in the hands of professional people.
Now, you already know several types of services that you can get from outbound contact center automation. If used optimally, this activity can result in very rapid growth and an increase in company revenue.
Therefore, make sure you use outbound contact center automation technology, as provided by VADS. VADS services are able to mobilize a trained workforce to provide effective services for companies that can reach their goal. Let's grow your company with VADS!
---