Newsroom
VADS
Newsroom
PT VADS Indonesia: Wins the 2023 Stellar Workplace Award
PT VADS Indonesia: Wins the 2023 Stellar Workplace Award
09 November 2023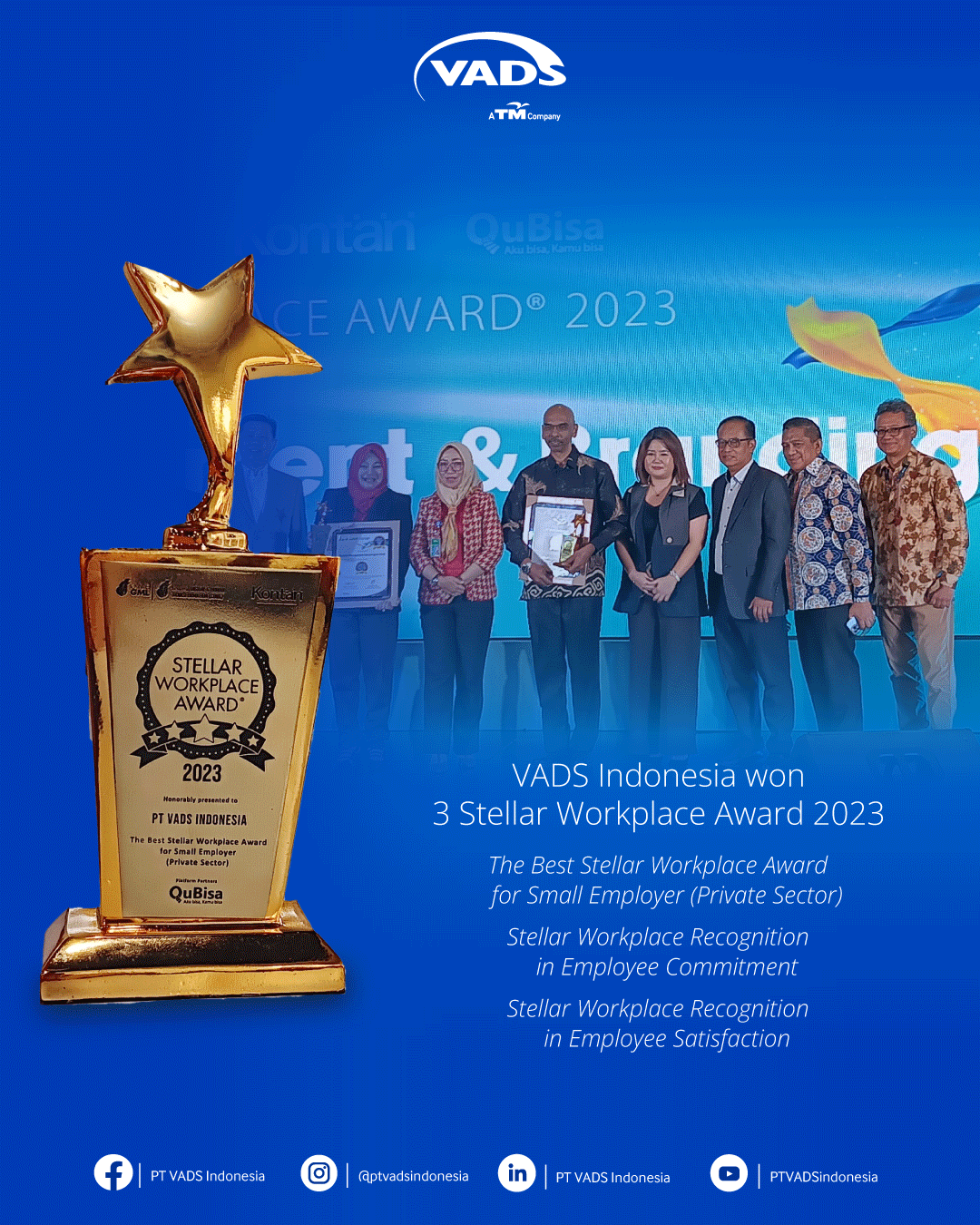 PT VADS Indonesia, a technology company that focuses on consulting services and digital transformation, has won various prestigious awards at the 2023 Stellar Workplace Award held by Kontan Business & Investment Media together with GML Performance Consulting on Wednesday (8/11) at Le Meridien Hotel, Jakarta. This award recognizes the company's dedication to creating a work environment that inspires and supports employee development, and contributes positively to the company's overall success. PT VADS Indonesia received 3 awards at once, namely:
• The Best Stellar Workplace Award for Small Employers (Private Sector)
This award was given to PT VADS Indonesia because it obtained the highest employee engagement index, including employee commitment and satisfaction scores. In this category, PT VADS Indonesia shows a high commitment to employee development and improving the quality of the work environment.
• Stellar Workplace Recognition in Employee Commitment
This award is given to companies that demonstrate a high employee commitment index, where employees not only contribute according to their duties but also provide extra positive effort towards the company's success. PT VADS Indonesia maintains an extraordinary commitment to achieving excellence and providing a positive impact on organizational development.
• Stellar Workplace Recognition in Employee Satisfaction
This award is given to companies that have succeeded in creating a high employee satisfaction index, reflected in the positive attitude of employees towards the company. PT VADS Indonesia is proud because employees feel high satisfaction and spread positive views about the company to colleagues, prospective employees, and customers.
The award winners were selected based on evidence of employee engagement as measured through surveys and panel assessments by a team of judges. The evaluation also includes an analysis of company presentation documents that demonstrate the best employee engagement initiatives related to business performance. This ensures that awards are given to companies that have a real commitment to employee development and overall company growth.
The 8th Stellar Workplace Award in 2023 carries the theme "New Gen Engagement & Branding" presented by ONE GML - Center of Digital & Human Transformation (CDHX) and Kontan Business magazine. This collaboration provides wider recognition for PT VADS Indonesia's achievements in creating an extraordinary work environment and contributing greatly to the progress of the organization and society in general.
---