Newsroom
VADS
Newsroom
VADS Indonesia Client Gathering 2021 "Adapting to The New Era of Effective and Efficient Contact Center During The Pandemic"
VADS Indonesia Client Gathering 2021 "Adapting to The New Era of Effective and Efficient Contact Center During The Pandemic"
18 March 2021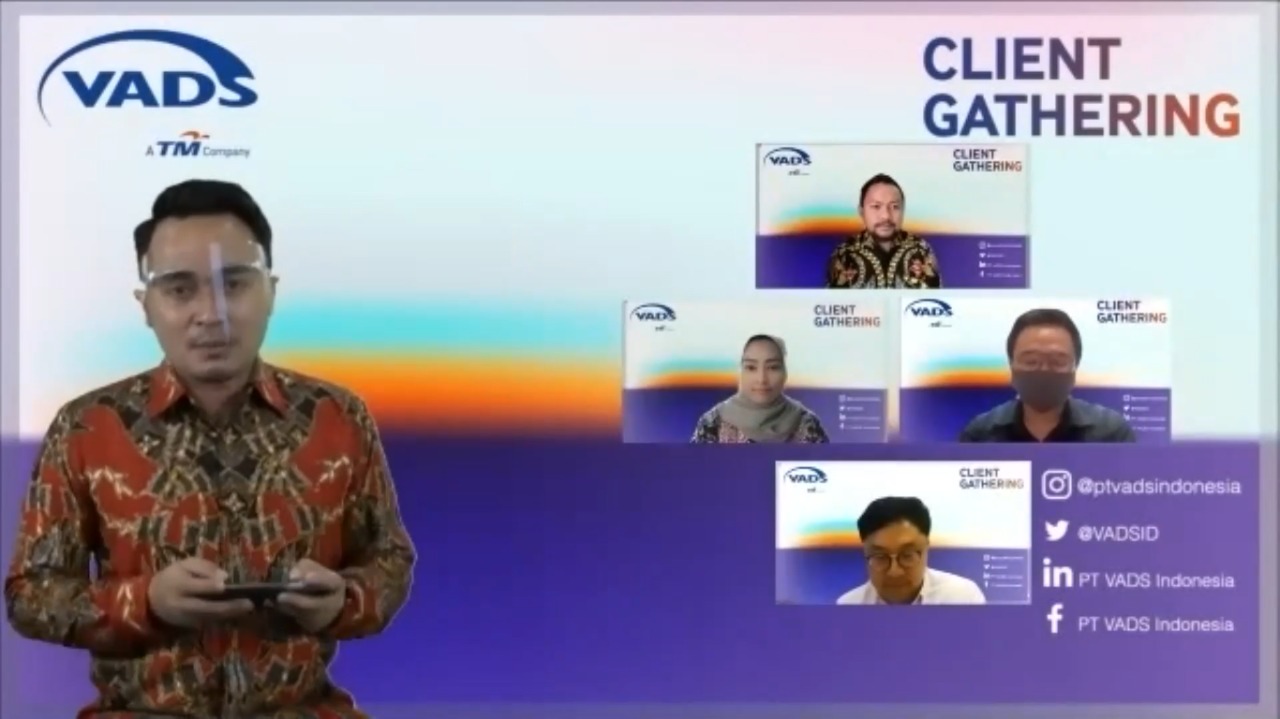 Jakarta, March 17, 2021 - PT. VADS Indonesia again held a client gathering event 2021 with the theme "Adapting to the New Era of Efficient and Efficient Contact Center During The Pandemic" through a webinar. This webinar is an annual activity of PT. VADS Indonesia with the aim of giving appreciation and commitment to clients for loyalty and trust they have used services from PT VADS Indonesia while increasing relations with clients PT VADS Indonesia.
In addition, on this occasion, PT VADS also introduced new solutions to increasing the Contact Center and Customer Experience during a Pandemic such as the Business Continuity Plan (BCP) solution, Work from Home (WFH), Cloud Alpha Solutions, and Blockchain Security transaction data security solutions Authentication. These solutions are expected to facilitate services for customers who need information with a rapid and appropriate response especially during this pandemic and ensure customer-owned data security.
"If we see the trend of how to work before the pandemic, we can only do work in one place, but on this day there should be changes. The application of WFH makes our workflow more efficient either from the budget side and also time to be more productive. In our situation facing this pandemic, one that we cannot separate is the transformation of technology and we must be able to move quickly to be able to keep up with technological developments. If we cannot follow it, then we will be left behind. For this reason, we are proud to present a variety of speakers who are experts to share their experiences and expertise in using technology, especially on the Contact Center at this event and introduced a solution owned by PT VADS Indonesia ", said Saravanan Belusami, CEO of PT VADS Indonesia.
This 2021 client gathering presents 5 experienced and competent speakers in their fields including Rudy Dalimunthe (Senior Vice President of Customer Excellence Tokopedia), Tine E. Effendi (Associate Vice President of Customer Satisfaction Management Bukalapak), Fuad Azis (Project Manager Oyo Hotel Indonesia), Chin Sui Lee (Assistant General Manager Cloud Services TM One), and Phillip Jay Sung (Blockchain Secure Authentication TM One). The event was attended by more than 30 famous companies from users of services and services of PT VADS Indonesia from various industries such as banking, e-commerce, telecommunications, government, and other sectors.
"As we know the problem of work from home in the BPO industry and the entire industry is Security and Productivity. It is undeniable that the pandemic becomes our teacher and a new experience in innovating to remain productive and can still work by providing convenience or changing the world of work from offline to be online. This WFH is like we know being a very effective choice in terms of speed and convenience to be productive and efficient because it costs for set-up or using the WFH model is not so big as using working space. " Said Deddy Hermansyah, Chief Marketing Officer of PT VADS Indonesia.
Deddy Hermansyah revealed the further various challenges that must be considered in the WFH related to security or security, namely there are two, the first is the problem of data security and information. PT VADS Indonesia has implemented and has received the latest solution where the data remains safe even though it is WFH using technology including using IVA (Intelligence Video Analytics) where this technology feature is able to recognize and capture the activities of an agent at home when he wants to arrest Or screenshot confidential data then this application will automatically block or make the screen fade. The second is in connection or connectivity we use Secure IP VPN where connectivity seems to be in an offline office environment. Then the device provided by an agent such as a PC or Notebook has been designed by the IT Security team of PT VADS Indonesia so that crucial information can be blocked first. In addition, PT VADS Indonesia has the latest technology called Blockchain Secure Authentication (BSA) that uses blockchain technology for distributed security random check, passwordless, and encrypted data so that the user does not need to remember the password login by using this technology. On the one hand, this BSA technology also provides efficiency because it can eliminate the cost of OTP SMS. This technology is very new and is a trend in developed countries such as Korea, the US, Japan, and China. PT VADS Indonesia is proud to bring this technology to Indonesia and offer free POC for companies who want to know more about BSA.
"The next challenge that must be considered in WFH is a productivity problem. Unlike offline conditions where we can see our team's performance in real-time and Live. In this WFH, of course, there are challenges because we cannot see our team directly work and monitor the results of their work in real-time. Here PT VADS Indonesia has found the latest solution, namely using Power BI where we can see real-time performance agents at home, and escalation is quickly done with communication via WhatsApp with the team leader, Quality Control, RTFM, Operations Manager up to head. In our system, there has also been a geofencing feature to detect the location of each agent and agent movement of one location to another so that the Operations Team and Team Leader can monitor the movement of agents in real-time and of course this will increase the productivity of agents with this feature. Of course, all WFH services will be more efficient because we offer cloud base services or pay per use by using the Alpha TM One cloud where Cloud Alpha is a new Cloud Service PT VADS Indonesia which works with the parent Telekom Malaysia company that can provide SLA 99.9 % so it is very reliable, effective, and efficient. " Said Deddy Hermansyah.
---