Events
Posted On 02 Dec 2020
Jakarta, December 2, 2020, VADS Indonesia held a Financial Services Industry Webinar 2020 with the theme of Building Reliable Financial Industry Digital Consumer Services in the Middle of a Pandemic through Zoom Webinar. This seminar is an annual activity of PT. VADS Indonesia, which has been going on since 2016 as a form of contribution in advancing the contact center industry in Indonesia. However, due to a pandemic, the seminar event was turned into a webinar via an online platform.
This event presented 4 speakers who are experienced and competent in the financial and customer service industry who are also clients of PT. VADS Indonesia along with regulators from the financial industry in Indonesia, namely Yulianta (Head of the Financial Services Authority Consumer Service Operations), Reni Septiana (Senior Vice President Contact Center Bank BCA), Andi Andries (Chief Product and Innovation Officer Investree), and Thaib Bin Mustafa (GM of Cybersecurity Services TM ONE). This webinar was attended by approximately 40 well-known companies in the financial industry including Bank BNI, Bank BTN, Manulife Aset Management, Bank DKI, Payfazz, DANA, Maybank, Ministry of Finance, Commonwealth Bank, Mega Insurance, BPJS Ketenagakerjaan, Bank BCA, Investree, OJK , etc. which are clients and potential clients of PT. VADS Indonesia.
The purpose of holding the 2020 Financial Service Industry Webinar is to share knowledge about the role of companies and institutions in building digital consumer services, especially during a pandemic. During a pandemic, many changes have occurred, especially in the financial industry, especially in consumer services. Consumers are more selective in transactions and pay attention to many aspects and also the priority scale of transactions, so a strategy is needed so that all consumers, especially those in the financial sector, can use financial industry services safely and comfortably in the midst of a pandemic.
Deddy Hermansyah, Chief Marketing Officer of PT VADS Indonesia, said that on its 12th birthday, PT. VADS Indonesia contributes to all players in the banking and financial technology (fintech) sector by holding this free FSI webinar. Where this webinar aims to provide insight, input, reference, and also share experiences between clients and potential banking clients at PT. VADS Indonesia. The banking and fintech sector is a unique sector where customer data and transactions must comply with government regulations, in this case, the OJK and Bank Indonesia. To support this regulation, PT VADS Indonesia as a world-class Business Process Outsourcing has implemented international standard security standards ISO 27001: 2013 to ensure the security of customer data, transaction data, and other important data is well maintained and there is no leakage, both in terms of process, technology, and human resources.
"This effort does not stop here, we will raise security standards by obtaining PCI DSS certification in February 2021 to protect and support transaction data that is integrated with contact center services for credit card transactions and other payment gateways." said Deddy Hermansyah.
Saravanan Belusami, Director of VADS Indonesia, said that it is undeniable that the smartphones we have today are already using applications that have changed the way we interact and also transact, asking for help with the services and information we need. The development of an efficient and effective customer experience in an industrial environment can be achieved through fundamental processes, technology, and organizational structures that deliver customer satisfaction. Customer experience is an important experience that must be continuously improved, especially in digital channels. Competition from start-ups, digital companies, and related industries, along with increased regulations, will force companies to accelerate Digital Reinvention.
Events
Posted On 26 Aug 2020
Jakarta, 26 August 2020 - The Era of the public to be more active in using digital platforms during the pandemic and the new normal has made responsive public services one of the top priorities during a pandemic as the front line in serving and communicating with the public, especially in providing excellent services. This is the basis for PT VADS Indonesia to hold a webinar with the theme "Optimizing Public Services with the New Normal Customer Experience" to share knowledge and strategies on how to improve services in each unit or institution in the New Normal era, especially in government. This webinar was also held in connection with the celebration of Indonesia's 75th Independence Day as a form of PT VADS Indonesia's contribution to advancing the nation.
Through this webinar, VADS Indonesia introduces its best customer & digital services system that is suitable for use during a pandemic like this time. With the solutions provided by VADS Indonesia, it can simplify services for the public or customers who need information with a fast and precise response through various channels and ensure the security of data belonging to customers and the public.
This event also presents speakers who are experts and competent in their fields ranging from regulators and practitioners who provide important insights on how to handle customer experience in the new normal era.
Marvels P Situmorang (Acting Director of Broadband Development of the Ministry of Communication and Information Technology of the Republic of Indonesia), as the first speaker said, "The Covid-19 pandemic has changed the way of providing services to the public, by minimizing face-to-face meetings physically or contactless, but this requires a means. Telecommunications and governments are often lacking in building this required infrastructure. Therefore it requires a partnership or cooperation with the private sector for this technology need and this is an effective way for the government to meet the needs of the community.
Meanwhile, Andi Nirwoto (Director of Operations, IT, and Digital Banking of PT Bank Tabungan Negara) explained how Bank BTN has implemented a new business model that prioritizes digital services systems to its customers, starting from opening online onboarding accounts, cash recycle machines, to switching outlets. to branchless banking. "Almost all Bank BTN services can be accessed through our website or other digital channels at this time," said Andi. This makes customers comfortable with transactions even in the midst of limitations due to the pandemic.
Likewise with the third speaker, Netty Hartawati (Head of Information Services Section of the Directorate General of Customs and Excise, Ministry of Finance of the Republic of Indonesia), explained how Customs' customer experience adapts to new normal conditions with digital channels such as chatbots, live chat, email, and social media.
In the last session, Rahmah Binti Isahak (AGM of Cybersecurity Services Division, Products & Innovations TM ONE) introduced a new solution from TM One, which is the holding company of VADS Indonesia, namely Blockchain Security Authentication, a digital security system that adopts a blockchain concept that is proven to be safe. and is more efficient to use today than other digital security services.
Participants who attended consisted of various government agencies such as Bank DKI, AXA Mandiri, PGASCOM, ASDP Indonesia, Jasa Marga, MRT Jakarta, Transjakarta, Baznas, Dompet Dhuafa, IGM, LPS, Ministry of Transportation, BPS, BNI Life, Palyja, JakPro, Pertamedika, RSPP, Garuda Indonesia, Istiqlal Mosque, DJP, Setkomwasjak, TICMI, and many more.
This webinar is expected to broaden the participants' insight in running public services that remain optimal even in the current new normal condition and also get to know more about the solutions that VADS Indonesia can provide in improving the customer experience for public services, especially during a pandemic.
Events
Posted On 29 Jan 2020
Jakarta, January 29, 2020 - PT. VADS Indonesia once again held a Client Gathering 2020 event with theme "Elevate Your Digitalized Customer Experience" at Djakarta Theater XXI, Sarinah, Jakarta Pusat.
This event is an annual activity of PT VADS Indonesia with the aim of giving appreciation to clients for their loyalty and trust in using the services of PT VADS Indonesia, while enhancing relationships with PT VADS Indonesia's clients. Also on occasion, PT VADS also introduced new solutions to improve customer experience through digital platforms such as Social Media Analytics and Whatsapp API for Business, as well as Blockchain Security Authentication data security solutions. These solutions are expected to simplify services for customers who need information with fast and precise responses through digital channels and ensure the security of customers' data.
Thaib Mustafa, General Manager of Enterprise Application Services & Cybersecurity TM ONE, discusses about Blockchain Security Authentication
Client Gathering 2020 presents 4 experienced and competent speakers in their fields including Thaib Mustafa (General Manager of Enterprise Application Services & Cybersecurity TM ONE) and Ahmad Redzwan Bin Mohamad Nor (Marketing Director / Malaysia Representative FNS Value Co., Ltd) that discusses Blockchain Security Authentication, Muhammad Iqbaly Noor (Director of PT Ebdesk Teknologi Indonesia) discusses Elevate Your Business with Social Media, and Desian Didik Wicaksono (Sales Manager of PT Infobip Indonesia) who discusses Better UX to Improve CX Through WhatsApp for Business.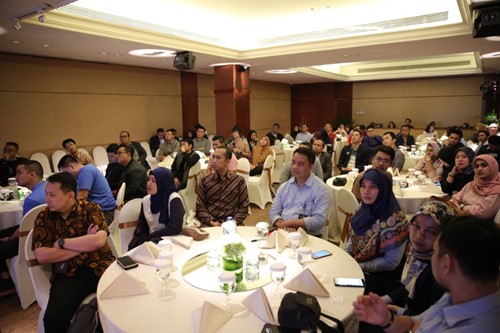 Participants in the 2020 Client Gathering event
The event was attended by more than 30 well-known companies from PT VADS Indonesia client and service companies from various industries such as BNI, BCA, Bea Cukai, BTN, DANA, Grab, Indosat Ooredoo, JD.ID, LPDP, OYO, Palyja, Samsung, Shopee, Tokopedia, Transvision, PGASCom, Klip DJP, Bukalapak, and others.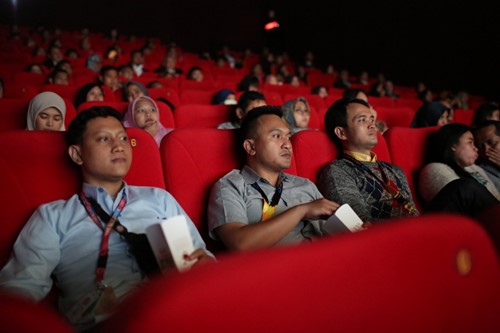 Nonton bareng session VADS Indonesia with clients at Theater 1 Djakarta Theater
This event closed with a watching session (nonton bareng) at Theater 1 Djakarta Theater with partner companies of PT VADS Indonesia. This program as a token of appreciation to clients who had entrusted PT VADS Indonesia to help manage their customer experience. With this activity it is expected to improve the existing good relations between PT VADS Indonesia and clients so that in the future cooperation will be better and more secure.